STONE 7 Inch Smart TFT Screen Has A Class TFT Panel - stoneitech.Com(STVA070WT-01)
>Documentation-Please visit our U disk with all technical date(Including the stone GUI design software,user guide,ect.)
>800*480 Resolution;CortexM4 200MHz CPU; Flash Memory for User;RGB 65K true to life colours;Visual Angle:70/70/50/70,Easy interface to any RS232/USB Serial Host.
>TFT Screen with integrated 4-wire Resistive Touch Panel;Visual Area:154.1mm(L)85.9mm(W); Adjustable Brightness:0~1000 nit;Support Video/audio.
>Power Consumption:2.6W;Can use for all industrial Project;Applicable voltage:6.0V-35V,Type Voltage is 12V;IAF,FC,CE RoHS certified
>HMI 7.0" TFT 800x480 Resistive Lcd Touch Screen Intelligent Display Module has A Class TFT panel,with RTC function to display time;
>Working temperature:-20degrees~+ 70 degrees
Package Including:
1 * STONE HMI 7.0" TFT 800x480 Resistive Lcd Touch Screen Intelligent Display Module
2 * Transfer board
2 * 8 pin terminal block
2 * 20mm long cable
1 * U disk
1 * USB cable
1 * 5mm short cable
1 * 20mm DB9 cable
Application Area: Medical & Beauty Equipment, Engineering Machinery & Vehicle Equipment, Electronic Instrument, Industrial Control System, Electric Power Industry, Civil Electronic Equipment, Automation Equipment, Traffic Equipment,Etc.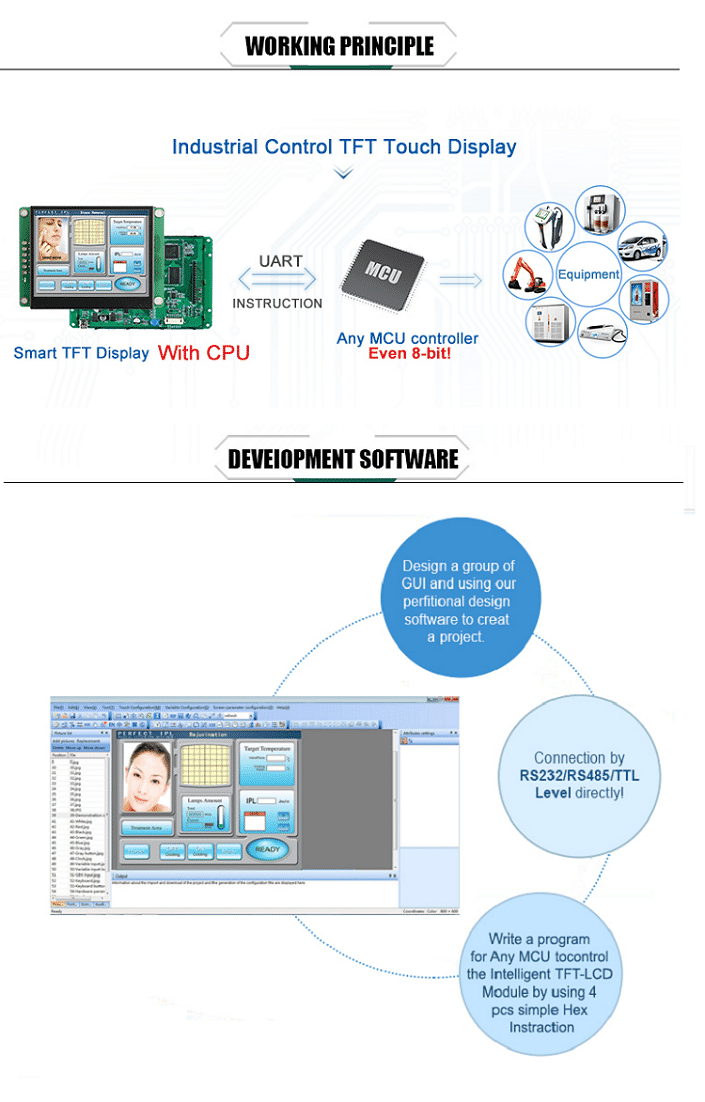 Physical Parameter

Model

STVA070WT-01

Size (Inch)

7.0 inch

Resolution

800×RGB×480

Color

65536 colors (16 bit)

Viewing Area

154.1mm× 85.9 mm

Pixel Spacing

0.1905 mm × 0.0635 mm(H×V)

Overall Dimension

186.3 mm × 105.4 mm × 15.3 mm(N)/16.9 mm(T)

Net Weight

250 g(N)/ 325 g(T)

TFT Panel

A+ Class Industry Panel

Touch Screen

Industry Level 4 wire resistance
Or without touch screen is optional.

Backlight Parameter

Backlight Type

LED

Brightness

1000 cd/m2(Brightness can be adjustable in 100 levels.)

Contrast

500:1

Backlight life

50,000 hours

Viewing Angle

70°/ 70°/ 50°/ 70°(L/R/U/D)

Working Temperature

-20°C ~ +70°C

Working Humidity

55°C, 85%

Storage Temperature

-30°C ~ +80°C

Screen Mode

Digital

Performance Parameter

CPU

CortexM4

LCD Controller

CPLD EPM240

Refresh Rate

200MHz

Picture Switching Speed

40 ms/picture (25 pictures/s)

Flash Memory

Standard 128MB, Extension 1GB

Memory Amount for picture

According to the capability of the image, Suggest "JPG" format.

Interface

RS232/ USB Interface

Image downloading

USB2.0 (12Mbps) & U storage Disk downloading

Voltage Range

DC6.0V ~ 35V (typical value: 12V)

Power

2.6W

Test Report

MTBF

4,250,000H

Working Temperature

-20°C ~ +70°C

Air Humidity

60°C, 90%

Continuous Vibration Testing

10-55Hz, 1.5mm, 10G

Impact Acceleration Testing

6ms, 100G

ESD Testing

10KV

Radiation Reliability Testing

44W
Item

Hardware

Software

Operation

Comparison

WinCE Linux

TFT Panel &Driver &Memory Flash &UART/USB Port &5-40V Power Supply

GUI Design Software &Hex Command Set

Easy to operate,use simple instruction (Hex code)to control TFT module by any junior engineer.

1.Easy!Pwerfull!Saving!


2.Plug and Play.


3.Working fast.


4.Industrial class


5.Components from Well-known Brands.

Intelligent TFT LCD Module

PC

Operation System

Develop application programs by professional software engineer.

1.Need professional operation.


2.Long startup time.


3.Working slowly.


4.High cost.

Normal TFT LCD Module

Panel&Driver

None

Write plenty of control programs for TFT module by professional engineer.

1.Need tedious & Professional work.


2.Cost lots of development time.

3.Unstable working system4.Poor quality component

TFT Panel

Just panel

None

1.Develop hardware and driver.


2.Write programs by professional engineer.

1.Need tedious & Professional work


2.Cost even more development time.


3.Unstable working system.


4.Cheap imitated components.